Authorized Jedox Licensing Distributor and Support Provider
Video presentation
What is Jedox?
First-Ranked Jedox Partner and Integrator
The PerfectSight team ranks first among Jedox partners, distributors and integrators. PerfectSight is the only center of excellence in France whose talents possess a combination of technical and functional expertise backed by longstanding and proven experience in the areas of Finance and Management Control.
We are authorized to sell Jedox software licenses and provide support in the use of their software systems. Every PerfectSight consultant is certified in Jedox technologies.
Find out more about the PerfectSight—Jedox Partnership
Advantages
Jedox is a comprehensive integrated Business Intelligence platform used to create analysis, planning and reporting applications within a convivial, familiar and easy-to-use environment.
EASY
Analysis, Planning & Reporting
Intuitive and familiar
Easy to use
Only one tool to learn how to use
Only one solution for Excel, Internet & Mobile Devices
A solution designed for the business user, a familiar environment
RAPIDQUICK
Simulations, Deployments and Results
Rapid simulations
Rapid deployments
Real-time results
Immediate Business advantages
The fastest Business Intelligence and Performance Management solutions on the market
ECONOMICAL
Low TCO, Minimal Risk
Low license, support and maintenance costs
Few administrative tasks required
Customer first policy
An economically reliable model, little technical maintenance and few admin tasks required
A Single, Comprehensive and Integrated Platform
Jedox is the only Business Intelligence (BI) and Performance Management (PM) solution that operates on a single technical environment.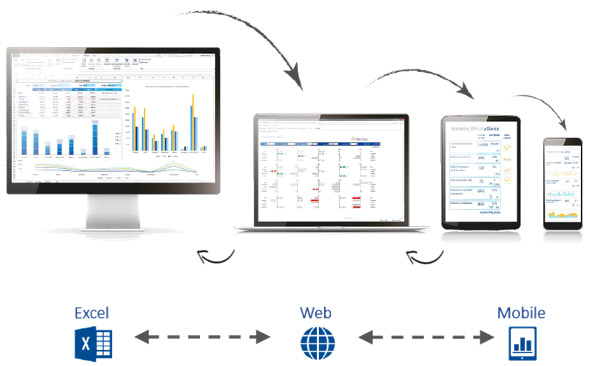 All Needs, All Users
The Jedox solution covers:
all BI & PM needs; Analysis, Planning, Reporting, Dashboards, Budgeting Process
across all departments; Management, Finance, Management Control, Sales, Marketing, Production & Manufacturing, Procurement, HR, IT, Governance & ERM, etc.
Straightforward and Rapidly Deployable
The Jedox solution is recognized for being easy to deploy, its high performance, an ability to process large volumes of data and above all for being resolutely end user-oriented.
Robust and Powerful
Jedox provides the benefit of the highest level of productivity and the finest rate of satisfaction and recommendation (at project completion) available on the market (2012 BARC BI Survey).
Convivial and Attractive
Jedox features an interface that is easy to use, easy to understand and easy for users to operate whether consulting, collecting or sharing reports, dashboards and data collection forms, just as it is easy for modeling and creating new reports. The interface enables users to obtain results that are aesthetically pleasing and attractive with dynamic interactive components of a quality high above the best state-of-the-art interfaces currently available on the market.